Universkin
Dr Rita Rakus is delighted to be working with Universkin to offer patients the ultimate in skincare.
Since its inception, Universkin has sought to empower doctors, providing them with the tools to create each individual's ideal, tailor-made skincare to help them achieve the most remarkable results.

Dr Rita Rakus says:
"I am delighted to be working with Universkin to provide tailor-made skincare products, bespoke to my patients and their own skin needs and concerns. The virtual skin diagnostic tool, Skin Xs, is revolutionary – patients simply need to upload a photo and complete a questionnaire – and through a combination of artificial and collective intelligence, I can prescribe the unique formula best for their skin. There are 19 different active ingredients and 1.8million combinations and this tool will allow me to determine the right one for you - so complete the virtual diagnostic now and have your custom skincare products delivered direct to your door, wherever you are in the world. "
Call 020 7460 7324
For more information on Universkin or to schedule a complimentary consultation With Dr Rita Rakus
HOW DOES UNIVERSKIN SKIN XS WORK?
The approach is simple: creating skincare that works, by allowing doctors to adapt the active ingredients, their concentrations, and the duration of the prescription to the skin in question.
Simply complete your complimentary virtual skin diagnostic - upload a photo for analysis and complete a short questionnaire. Based on your skin diagnostic, the artifical intelligence algorithms and Dr Rita Rakus will define a personalised routine integrating your ideal active ingredients to effectively target your skincare concerns.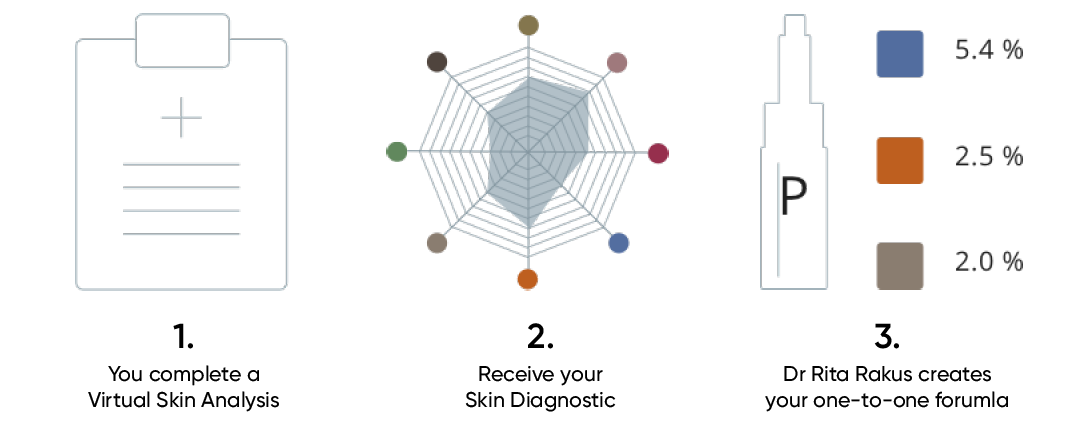 what is universkin?
The treatments are founded on a revolutionary skincare base, Universkin™ P. A cosmeceutical formula integrating camelina oil, Vitamin E and biomimetic peptides. Its structure allows for the integration of up to 3 pure active ingredients adapted to your unique skincare needs.

With 19 active ingredients available to choose from that act on the 8 primary skin dysfunctions, your serum is guaranteed to be meticulously crafted to meet your skin's unique needs.
Oxidative stress
Skin Appearance
Skin Redness
Skin Dryness and Dehydration
Skin Texture
Skin Oiliness
Skin Pigmentation
Pimples