VISIA Skin Analysis
VISIA the new advanced technology provides meaningful skin evaluations
Transforming skin care practices worldwide, VISIA's advanced technology provides meaningful skin evaluations, on-screen and printed reports, and tracks treatment progress.
VISIA ageing simulation shows how your skin can look 5-7 years older and 5-7 years younger
VISIA generates quantitative values for skin features that until now could only be evaluated subjectively. VISIA allows quick identification of the skin features of greatest concern for targeted procedure and treatment recommendations.
Instant access to analysis results ensures clear visualisation and patient communication. Zoom into the crisp, high resolution image for close examination of areas of concern such as wrinkles, sun damage, spider veins, etc.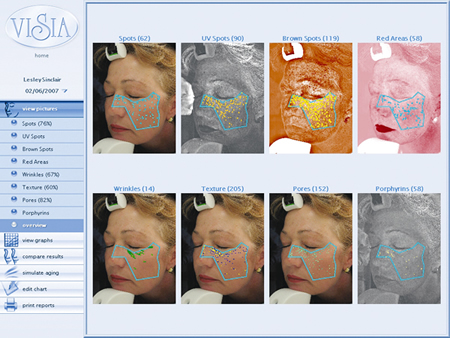 Key Features of the VISIA Complexion Analysis System
Quantitative assessment of skin features.
VISIA measure spots (pigmentation), UV spots, brown spots, red areas, wrinkles, texture, pores, porphyrins, and photodamage.
Grading of skin relative to peer group.
VISIA compares a female or male patient's skin features to other individuals of the same age and skin type.
Reproducible facial photography
VISIA ensures reproducibility of images between time points with built-in positioning aids and standardised lighting.
Multi-spectral imaging
VISIA allows to use standard, cross-polarized and UV photography to record and measure surface and subsurface skin condition.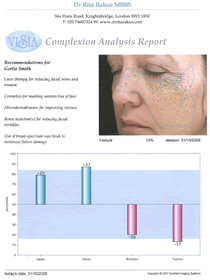 RBX TECHNOLOGY
Processing of subsurface Red and Brown features, VISIA provides unequalled analysis of conditions such as rosacea, spider veins, melasma and acne.
CUSTOMISED REPORTS
VISIA provides you with easy-to-understand customised reports including recommendations for treatment and skin care.
FULL FACE VIEW
The entire facial area, from chin to hairline, is viewable on the VISIA display. Frontal and side analysis VISIA allows to perform facial analysis on left, right or frontal views.
Every aspect of your skin condition can be clearly measured and displayed.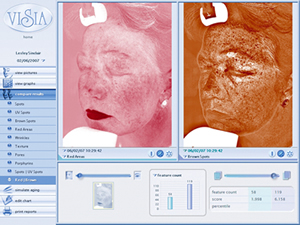 Ageing simulation
Simulated aging process to show 5–7 years older or 5–7 years younger for spots, wrinkles or both.
VISIA provides high resolution images for sun damage assessment and analysis, including UV fluorescence imaging to reveal porphyrins (P. acnes). UV images may be viewed with or without processing (black & white or colour) for maximum flexibility in evaluating underlying sun damage.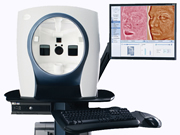 Each patient receives a print out of a customised report with images and results for their recommended treatment.