Thermage FLX
Thermage FLX is the latest non-invasive skin tightening treatment using radiofrequency (RF) therapy that can smooth, tighten and contour skin for an overall younger-looking appearance on the face and body.

Non-invasive, with no surgery and no injections
Only 1 treatment needed
Fast and comfortable
Little to no downtime
Lasting results
Can be used on multiple treatment areas and all skin types
NEW! Non-Invasive Blepharoplasty Eye Lid Lift
Call 020 7460 7324
Schedule A Complimentary Consultation With Dr Rita Rakus
How does Thermage FLX work?
Step 1: As we age, the collagen that keeps our skin firm breaks down resulting in aging skin that contains fine lines and wrinkles.
Step 2: A Thermage FLX™ treatment uses radiofrequency technology to heat the deeper, collagen-rich layers of the skin.
Step 3: The applied heat causes collagen to contract and encourages new collagen to start growing.
Step 4: This helps create smoother skin after just one treatment with results that continue to improve.

where can thermage flx work for me?
Thermage FLX can achieve fantastic results in multiple areas of the face and body.
Face - can soften lines around the mouth, eyes and forehead and give improved definition on the jawline and under the chin
Eyes - can reduce wrinkles and decrease hooding for a more awakened look - Non-invasive blepharoplasty/eyelid lift
Body - can improve contours and appearance of crepey skin on the abdomen arms, legs, knees and more
Thermage FLX EYELID LIFT
NEW! Launching at Dr Rakus the new Thermge FLX Non-Invasive Eyelid lift (blepharoplasty). Thermage FLX is the only FDA approved treatment for eyelids, so while many clinics offer periorbital lift treating around the eye, Dr Rakus and Thermage FLX can treat the actual eyelid so it gives a non-surgical blepharoplasty.
---
Karren Brady CBE had thermage flx and said this about the treatment: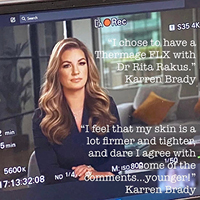 "My favourite tweet was from a women who said: "Karren Brady must have some ugly-looking painting ageing in her attic because she doesn't age a day and looks better every time she's on TV. Lots of women have been asking what I have had "done" to my face. Well, I avoid wrinkle injections and fillers. I have seen some horrendous cock-ups which turn naturally beautiful women into waxworks, so that's really not for me. I shudder at the thought of surgery. As Joan Rivers said: "If you tighten a prune you don't get a grape. You just get a tight prune."
I have been having a facial called Thermage FLX with Dr Rita Rakus, who uses a machine that contours the face to make your features more defined. It promotes collagen (something you loose as you get older) and it really has remodelled my face. I feel my skin is a lot firmer and tighter, and dare I agree with some of the comments . . . younger. So, having been on The Apprentice for 11 years, it's good to know I have managed to turn back the clock."