Ultherapy
Ultherapy is a new type of non-surgical, non-invasive procedure for the face that uses ultrasound and the body's own natural healing process to lift, tone and tighten loose skin.

Tighter, firmer, better-fitting skin!
Natural
No downtime
Noticeable results
---

"The results were instantaneous! Half of my face fat had disappeared. I swear to you, I actually had cheekbones. It is the most amazing treatment I have ever come across. "*
Karren Brady CBE
Jo Glanville-Blackburn asks Karren Brady to road-test transformational face and body treatments at Dr Rakus.
Read article
---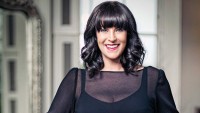 "Ulthera was my favourite of all the treatments I tried. I definitely would have it done again and I do think it's worth the money"*
Anna Richardson, Channel 4's '
How Not to Get Old'Ulthera treatment by Dr Rita Rakus
---
Ulthera uses the safe, time-tested energy of ultrasound focusing the energy to stimulate the deep structural support layers of the skin, including those typically addressed in a surgical facelift, without disturbing the surface of the skin. There's no downtime, no foreign substances, no radical change; your skin will gradually reflect a more refreshed, uplifting appearance. In less than an hour you can go about your day after a single Ulthera procedure to tighter, firmer, better-fitting skin.

You may notice a short-term "boost" and the natural process of creating new, more elastic collagen builds over time—much like the effect that exercise has on building muscle (but without the multiple workouts!).
Results will unfold over the course of 2-3 months and some patients have reported continued improvement for up to 6 months. While ultrasound does not duplicate the results of surgery, Ultherapy has proven to be the preferred alternative for those who are not yet ready for surgery.