Radara
Reduce crows feet with Radara using luxury combination of nature and science
Radara is a novel anti-ageing regimen using unique micro-channelling patches and high purity HA serum to repair, rejuvenate and replenish the eye area, diminishing wrinkles and restoring skin quality for a radiant, refreshed appearance.
Radara is the perfect combination of nature and science to give the skin its natural hydration, luminosity and reduce fine lines and wrinkles. The Radara unique skincare system consists of micro-channelling patches and high purity hyaluronic acid (HA) serum.
In spite of its name, hyaluronic acid does not burn; it is a substance occurring naturally in the body. One of the main reasons for the loss of youthful skin glow is the slowdown of the hyaluronic acid production over time.
Skin is designed to be a natural barrier protecting the body from harmful elements. But this means that it will also filter skin care active ingredients stopping them from reaching the deeper layers where their effect is most needed.
This is where the Radara micro-channelling patch will provide a direct route into the deeper skin layers to replenish HA giving a smoother and firmer skin and reducing fine lines and wrinkles from inside out.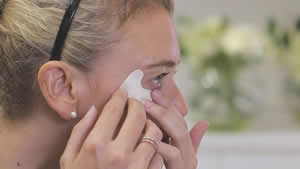 The micro-needles on the patch are less than half a millimetre long and are specifically designed to create micro-channels in the skin.
Radara is only available through selected practitioners who can provide advice on the best way to use the product to achieve the best results. The Radara system is intended to be used at home and integrated into a daily routine; it is recommended to apply the patch once a day in the evening. A treatment can be about 4 weeks. The treatment is simple to use in 6 easy steps.