Dr Levy Products
From the Number 1 Botox Doctor in Switzerland, Dr Philip Levy, comes a revolutionary anti-ageing skin care range - The Intense Stem Cell Line. 100% Developed & Made In Switzerland.
SKIN AGEING IS REVERSIBLE
Rejuvenate tired skin cells with Dr Levy - What's behind skin aging? Worn-out, tired stem cells. That's one of the scientifically proven causes of chronological aging. With time, stem cells in both the epidermis and the dermis weaken, there are fewer collagen and elastin fibers and decreased amounts of hyaluronic acid. As a result, skin becomes dry, thinner, less plump. And wrinkles start to appear. Boosting stem cells activity is the secret to younger looking skin.
"You might not remember how your skin was 20 years ago, but your stem cells certainly do."

Your cells are like a time machine: they not only remember their youth, but they can actually go back in time! The potential is in your cells, all they need is a wake-up call. This is what French scientists successfully proved in 2011, when they turned aged-worn skin cells in people over 90 back to their embryonic stem cell stage. Not only did they prove that ageing is reversible, but they demonstrated that the key to turn back time was already present within our own cells.
For decades, skin specialists have considered dermal stem cells to be the holy grail to stop – and reverse – skin aging. This is because dermal stem cells are the mother cells of fibroblasts, the skin's natural factory of those essential anti-wrinkle fighters: collagen & elastin.
Yet, treating dermal stem cells remained a dream until 2009 when their "reservoirs" were finally discovered by a team of Canadian scientists (Cells Stem Cells, Dec 2009). With this discovery, Dr. Phillip Levy knew he now had at his reach the tools necessary to revolutionize anti-aging skin treatments, the same way Botox® and pain-free hyaluronic acid transformed aesthetic medicine.
POWERFUL INGREDIENTS
The first treatment that re-awakens your skin's own youth.
Dr. LEVY Switzerland® works. Its supercharged ArganCellActiv® complex contains exclusively ArganCDV, a plant-derived stem cell extract scientifically proven to boost the vitality of dermal stem cells1.- the source of the skin's natural wrinkle fighting cells. Combined with an epidermal stem cell activators and 9 other concentrated anti-aging ingredients, Dr. LEVY Switzerland® helps vitalize the skin's own regenerating system.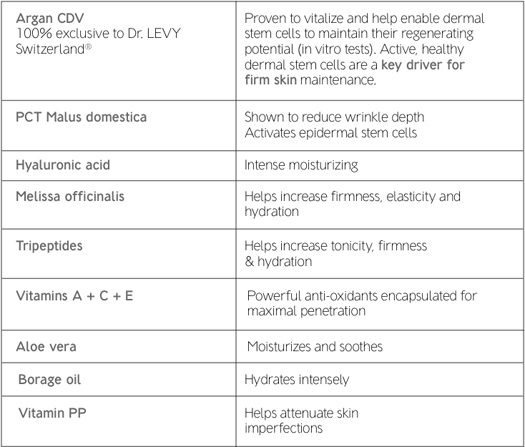 MEET DR LEVY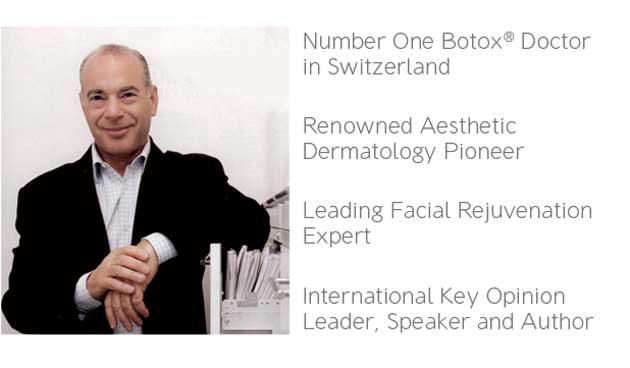 This top Geneva-based aesthetic dermatologist heads one of Europe's most prestigious private practices and he is driven by one obsession: to help his patients delay surgery, reverse the signs of aging and restore their skin's natural youthful beauty.

As the first private doctor in Switzerland to have introduced aesthetic Botox®, pain-free hyaluronic acid as well as CO2 laser resurfacing Dr. Phillip Levy has paved the way with innovative procedures producing breakthrough results – and all this with no surgery. His world-famous trademark Nefertiti Botox® Lift® which re-contours and straightens the jawline is one such example.
To complement the extraordinary clinical results he already achieves with botulinum toxin, hyaluronic acid injections and laser treatments, Dr. Phillip Levy has searched for the most powerful cosmeceutical ingredients to naturally firm, plump and smooth skin.
With the discovery of dermal stem cells in 2009 (the cells ultimately responsible for creating and maintaining the fibroblast-collagen-elastin matrix) Dr. Phillip Levy could finally harness the skin's very own anti-wrinkle system to target aging at its source.
Dr Rakus is delighted to work with Dr Levy and offer his extensive range of products at the clinic.