Dr Max Malik
Dr Max Malik, MB CHB, PG Dip Derm, MBCAM, MRCPsych has over 20 years experience in Medicine, and is acknowledged as a leading expert Cosmetic Doctor, Aesthetic Dermatologist and Hair Restoration Surgeon. He has expertise in both the latest Follicular Unit Transplant (FUT) and Follicular Unit Excision (FUE) techniques.

His skills are in demand world-wide and have earned him an international and celebrity client base.
Dr Malik holds a Post Graduate Diploma in Practical Dermatology (Cardiff) and is a full member of the British Association of Hair Restoration Surgeons and the International Society of Hair Restoration Surgeons, ISHRS, USA. He is also a full member of British College of Aesthetic Medicine and a Member of The Royal College of Psychiatrists.
Dr Malik writes and publishes regularly on the psychology of Aesthetic Medicine and is an expert on Body Dysmorphic Disorder in Aesthetic Medicine. He is an International Trainer and Key opinion Leader for Cellenis PRP, for Galderma and for Wigmore Medical.
He is invited to lecture regularly at aesthetic conferences to share his knowledge and expertise with colleagues.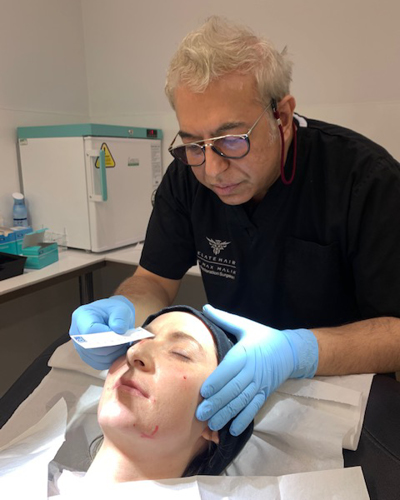 Call 020 7460 7324
Schedule A Consultation Or Appointment With Dr Max Malik at the Dr Rakus Clinic