Charities

HAND IN HAND – TAMIL NADU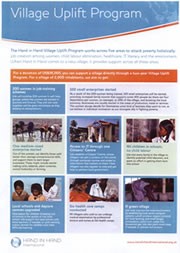 Dr Rakus is now involved in the Village Uplift Programme. She has adopted her own village and wishes to thank all those who have supported her with donations.
Dr Rita Rakus and her patients have adopted a unique charity challenge in one of the worlds most impoverished areas the province of Tamil Nadu in India.
This is an area with many villages left behind by modern society. Starving children who labour in looms and fields, rather than going to schools. Women, abused and illiterate work hard long days and earn less than 50 p a day with which they sometimes have to feed 5-6 people. Families live surrounded by unclean waters and in mountains of unprocessed waste, trapped in eternal poverty by loan sharks who charge interest rates of up to 150%. But there is a way out. With some innovative help from us they can get the tools they need to help themselves live better, wealthier, healthier lives.
Through the registered charity Hand in Hand Dr Rakus is now going to support an entire Indian village as it gets on its feet. She intends to raise £15,000 pounds which will cover these things for 2 years –
Help to Self Help: To provide micro loans and entrepreneurship training to the women of the village. The goal is 200 micro enterprises and 2 medium sized enterprises, which will generate an enormous economic boost to the village, not to mention the social and emotional empowerment this entrepreneurship gives to downtrodden women.
End Starvation:. To feed all malnourished children.
Schooling: To ensure the children of the village have a future by ending child labour and upgrading local schools. Literacy: To teach the poorest men and women to read and do basic maths
Ecology: With a waste management unit, we can break the cycles of endless garbage and disease
Citizenship: With IT and democracy training we will help the villagers orient themselves in the world




---
Bunono School Uganda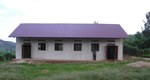 Nurse Emma Waters from Dr Rakus practice went to work in Uganda for 2 weeks on the Bunono School Uganda with Marlyn Somers, the founder of the Uganda Aid Person to Person Charity and the moving force behind the building of the Bunono School.
Emma attended the opening ceremony of the Victor Rakus Wing of the school, the building of which Dr Rakus and her patients have funded.
Emma delivered a baby boy on St Valentine day whilst working at the school in Uganda and Dr Rakus has sponsored this new arrival.