Cristal Cryolipolysis
Our latest innovative method for non-invasive fat reduction.
Loose fat and sculpt your body with:
no surgery
no pain
no scars
no downtime
We are delighted to be the first location in the UK to work in collaboration ICE AESTHETIC and offer their incredible new medical cryolipolysis treatment - Cristal - to target stubborn fat.
You benefit from ICE AESTHETIC's expert knowledge of a diversity of medical specialists, latest medical devices and experience gained from more than 20,000 treatments per year, combined with the extensive expertise of Dr. Rakus and Dr. Galyna Selezneva, who considered as experts in the field of medical cryolipolysis.
What is Cryolipolysis?
Cryolipolysis is a non-invasive method for the treatment of local fat deposits by freezing. It has been used for gentle cooling of the fatty tissue for several years in the US in the fields of aesthetics and dermatology. Developed from scientists of Harvard Medical School (US), the cryolipolysis is based on scientific findings, according to which fat cells are more sensitive to cold than other cell types. This effect is purposefully used and therefore enables a fat cell treatment without surgery.
By using a cold-vacuum-applicator the desired body zone is cooled down in a controlled manner for approximately 70 minutes to a temperature around the freezing point, without injuring the skin or surrounding tissue.
Since the cryolipolysis is an exogenous treatment, no anesthesia is required and there is no downtime. Consequently, also sports activities are absolutely no problem after the treatment!
After the treatment you will receive a manual massage at the treated body zones.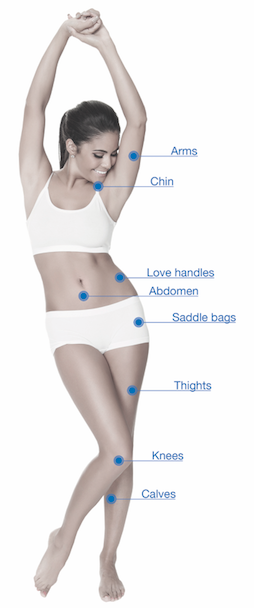 CRISTAL TREATMENT PROCESS
During a detailed consultation, we discuss your desires and goals together with you and provide you with an individual treatment plan including aftercare information based on your body values.
Sometimes, in a treatment plan more than one session are envisaged for the selected body zone. After a detailed anamnesis, we will discuss with you the best course of treatment for you.
Before positioning the applicator, a specific cryoprotection cloth will be put on the zone to be treated, in order to protect your skin.
In the following, the desired body part is "sucked into" a specifically shaped applicator head by using vacuum and is freezed therein for about one hour in a controlled manner.
An exception applies to the treatment of firm body zones, such as the outer legs or saddlebags. In this case, a patented plate applicator is used, which extensively treats the corresponding zone without using vacuum.
During the treatment you can lay back and read, work, listen to music or simply relax.
Body Contouring at the Dr Rita Rakus Clinic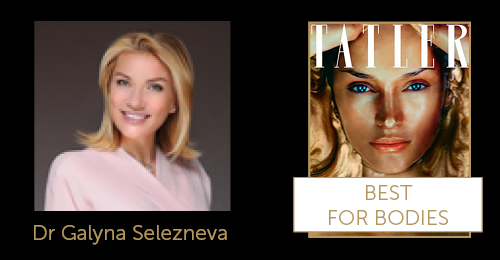 Heading up our Body Contouring clinic is Dr Galyna Selezneva - an expert in the field of medical cryolopisis. Dr Galyna has been featured in numerous publications, including Daily Mail, Grazia and Tatler, and has been recognised as and 'Best for Bodies' in the prestigious Tatler Beauty & Cosmetic Surgery Guide.