Body-Jet
Body-Jet is a totally revolutionary minimally invasive approach to body contouring
Body-Jet is the new generation technique used world wide since 2001 & FDA approved in 2006

Perfect to treat fatty areas that are normally resistant to dieting and physical exercise

Body-Jet treatments at Dr Rakus' London clinic are performed by one of the leading Body-Jet experts in the UK
---
What is Body-Jet?
Body-Jet is an innovative technique designed specifically for the removal of excess fat and localised adiposity thanks to the selective interaction of the laser beam with the adipocytes (fat cells). Body-Jet provokes the breaking up of the membranes of the adipose cells, lipocytes, allowing the elimination of their liquid oily contents in a natural manner.

The Body-Jet technique is performed by means of an innovative laser specifically developed for this purpose. It uses an Nd:YAG Laser with extremely short pulses and very high peak of power, in order to avoid tissues heating. Body-Jet works safely, effectively and with almost no down time.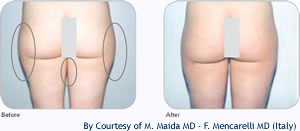 The advantages of Body-Jet:
Body-Jet is a minimally invasive and less traumatic technique compared with traditional methods
Body-Jet has minimum interference in your social life
Body-Jet is a straightforward and safe procedure
Body-Jet has less post-treatment care
Body-Jet has fast recovery and reduced recovery times
Body-Jet has no major side effects
Body-Jet gives a smoother contour of the overlying skin
How long does the Body-Jet procedure take?
The Body-Jet procedure takes around one hour, depending on the treatment area.
Is Body-Jet safe?
Yes, Body-Jet is safe, because Body-Jet only targets the action specifically to the adipocytes; Body-Jet coagulates the blood vessels thus Body-Jet reduces blood loss.
How many Body-Jet treatments will I need?

For localised deposits of fat just one Body-Jet session will be needed, while for larger areas of fat volume the Body-Jet procedure may be repeated.
When I will get to see results of the Body-Jet treatment?
Initial results of your Body-Jet treatment will be visible fairly quickly, the final result being apparent after three to four months; this allows time for the elimination of the lysate and collagen stimulation to cause skin tightening.
Does Body-Jet give a permanent effect?
Yes, the Body-Jet gives a permanent effect.
How long is the recovery time from the Body-Jet treatment?
You can return to your normal activities almost immediately after the Body-Jet procedure, although it is advisable to avoid strenuous sports and saunas for two weeks and intense massage for four to five weeks. A valuable adjunct to the Body-Jet treatment is by soft Dermodynamic soft massage by using the Triactive System.
Combine Body-Jet with Thermage Body for best results!